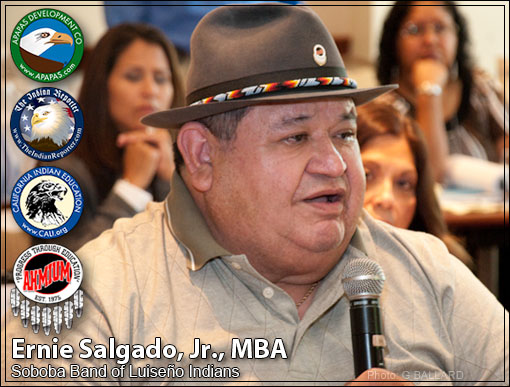 APAPAS DEVELOPMENT COMPANY
Ernie Salgado Jr. (Soboba Band of Luiseño Indians) is the founder and CEO of Apapas Development Co., a successful Native American-owned business in Southern California that borders the County of San Diego and Riverside County.
For three generations, Mr. Salgado and the Salgado family have been active leaders of Indian Education in California and Native American Indian Rights both on and off the Soboba Indian Reservation located in Hemet, CA.
SUCCESSFUL NATIVE AMERICAN INDIAN OWNED BUSINESS IN CALIFORNIA
Welcome,
APAPAS DEVELOPMENT CO is a privately-owned American Indian company that specializes in professional consulting services, including strategic communications for government-to-government cultural relations and effective marketing strategies in the Digital Age, including desktop publishing.
Apapas is located on the Soboba Indian Reservation in Southern California.


ERNIE C. SALGADO, JR
CEO: Apapas Development Co.
EDITOR IN CHIEF: www.CALIE.org | www.AmericanIndianReporter.com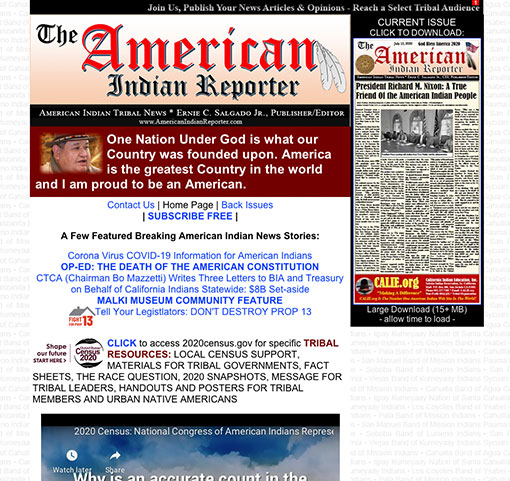 FREE BI-MONTHLY DOWNLOADS PDF.

Dear Tribal Community,
A few years past the Vietnam Veterans Memorial Wall was created to honor the 58,282 brave American warriors that were killed in action or missing during the Vietnam War.
The Vietnam Veterans Memorial Fund is expanding the honoring of these heroes by building The Education Center next to "The Wall."

Three local American Indian boys — Joseph P. Pink (Pala), and William J. Lyons (Morongo), James Gregory Mesa (Jamul) — are already included in this U.S. war memorial.
YOUR PERSONAL INVITATION
I would like to extend an invitation for you to join us at Ahmium in identifying any other of our brothers or sisters that were killed or missing in Vietnam or any of our Wars or "Conflicts".
Please read my COMPLETE LETTER for more information, including special contact information....
Ernie C. Salgado Jr.
Executive Director, Ahmium Learning Center, Inc.
Soboba Tribal Member
In fond remembrance:


PATSY "PAT" SALGADO
1946-2014
Patsy "Pat" Ann Salgado went to heaven on June 22, 2014. Pat was a beloved homemaker, wife, mother, grandmother and great-grandmother... She is survived by her husband of 51 years, Ernie C. Salgado Jr.


ERNEST SALGADO SR
1920-2012
Luiseño, Soboba Indian Reservation


ROBERT "BOBBY" SALGADO, SR.
1942-2016
Luiseño, Soboba Indian Reservation


ROSE SALGADO
1956-2021
Luiseño, Soboba Indian Reservation


SHIRLEY "FITE" SILVAS
1948-2016
Soboba Indian Reservation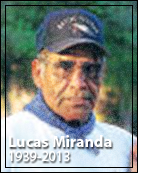 LEROY "LUCAS" MIRANDA
1939-2013
Pechanga Band of Luiseño Indians
On Friday, August 9, 2013, I attended the funeral of a lifelong friend, Leroy "Lucas" Miranda. "Lucas", we seem to have always called him "Lucas" since he was tagged with the nickname. How he came about the nick name and who he was as a friend is what I want to share with you.
"Leroy 'Lucas' Miranda was my friend; he was proud of his heritage, he was an honest man and a man of integrity. Those that knew him respected him as a man and as an elder..."

- Ernie Salgado Jr... Obit & Feature Article