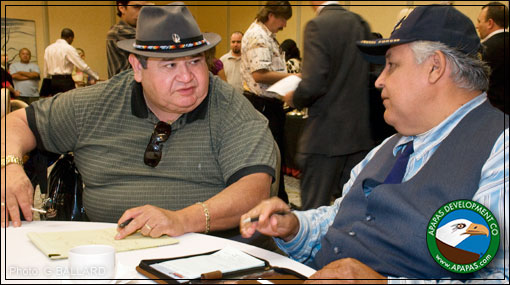 Ernie Salgado Jr., Chief Executive Officer of Apapas Development Company, talks with CALIE journalist Roy Cook during a MONSTOR.COM job fair event in San Diego.
Ernie Salgado Professional Resumé & Biography


Ernie C. Salgado, Jr., M.B.A.
CEO, Apapas Development Co.
P.O. Box 726
San Jacinto, CA 92581
TELEPHONE:
Office 1-800-924-8744 Ext. 230


TRIBAL BLOGGER — Ernie Salgado authored and published original news and editorial features on his CALIE Tribal Bloggers about Soboba Reservation, California Indian Education issues that affect Native American families.


Editor, The Indian Reporter Web site.
PERSONAL
• Born Soboba Indian Reservation June 13, 1941.
• Tribal Member of the Soboba Band of Luiseño Indians.
• Married Patsy Ann Kraus June 1, 1963 (51 years!).
• Two daughters: Andrea and Rebecca.
• Five granddaughters: Ashley, Alyssa, Amanda, Corryn, Cynthia.
• One great-granddaughter, Lorraine.
• One great-grandson, Augustine (Little Man).
• Veteran, U.S. Army 1965-1971.
EDUCATION
• University of Redlands, MBA
• University of Redlands, BA
• Mt. San Jacinto College, AS
EMPLOYMENT 1975-Present 
For the past 33 years held the position of Executive Director for Ahmium Learning Center, Inc., a Tribal non-profit 501(c)(3) corporation. The organization provides educational and recreational services for 22 Indian Tribes located in Southern California including a Family Literacy Program, Early Head Start Project for 0-3 years of age that includes the Parents-As-Teachers (PAT) curriculum, Individual and group Tutorial Services for Native American Students in grades K-12 both in school and after school, Academic Counseling, Higher Education Funding, Vocational Training, Job Referrals, and an Alcohol and Drug Prevention program.
EXPERIENCE
• Worked every level of business from entry level, farm labor to CEO. Served as the General Sales Manager for a General Motors Dealership in Hemet 1972-73.
• Successfully managed the Soboba Tribal Gaming Business from 1982 to 1985.
• Provided Management Consultant services for several organizations and private businesses.
• Own and managed several Businesses including Apapas Development Co., a Sand & Gravel Mining Company, and a Community Store and a Barber Shop, on the Soboba Reservation.
• Extensive experience with the Tribal TANF Program, Developed Policies & Procedures Manual, Tribal Family Assistance Plan (TFAP), Educational Programs, Accounting Systems and Staff Management Training.
BOARDS, COUNCILS & COMMITTEES
• Riverside County School Board Representative, 1978.
• Bureau of Indian Affairs Education Advisory Council.
• Member of the California Indian Education Association, 1970.
• Charter Member, the All-Mission Indian Housing Authority.
• Charter President, California Indian Center Directors Association.
• Awarded the Life Time Achievement in Indian Education in 2007.
• The San Jacinto Unified School District Board of Trustees for eight years.
• California Representative to the White House Conference on Indian Education.
• Active in Tribal Business Affairs at all levels, Served as Tribal Chairman and as Councilman.
• Served as the Congressional Appointee to the Advisory Council on California Indian Policy Represented the 27 Southern California Indian Tribes.
• Appointed to the California American Indian Education Oversight Committee 2007 for the CDE.
HOW TO CONTACT Mr. Salgado