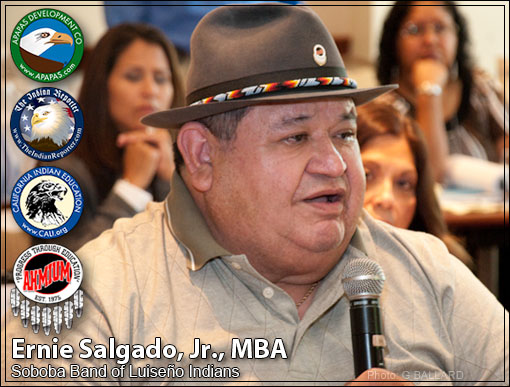 APAPAS DEVELOPMENT COMPANY
Ernie Salgado Jr. is the founder and CEO of Apapas Development Co., a successful Native American-owned business in Southern California. Mr. Salgado and the Salgado family have been active leaders of Indian Education in California and Native American Indian Rights for decades both on and off the Soboba Indian Reservation located in Hemet, CA.
Patsy "Pat" Salgado
1946-2014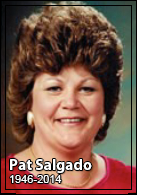 Patsy "Pat" Ann Salgado went to heaven on June 22, 2014. She was born March 30, 1946 in Kingsport, Tennessee where she lived until the age of nine. She and her family moved to Chicago, Illinois and later to Gary, Indiana. In 1962, again with her family, she move to Long Beach, California were she attended Poly High School. She was a beloved homemaker, wife, mother, grandmother and great-grandmother... Mrs. Salgado is survived by her husband of fifty one years, Ernie C. Salgado Jr., of the Soboba Band of Luiseno Indians. READ MORE.
NATIVE AMERICAN INDIAN OWNED BUSINESS
Welcome,
APAPAS DEVELOPMENT CO is a privately-owned American Indian company in Southern California that specializes in professional consulting services, including strategic communications for government-to-government cultural relations and effective marketing strategies in the Digital Age.
Apapas is located on the Soboba Indian Reservation in Southern California.


ERNIE C. SALGADO, JR
CEO: Apapas Development Co.
EDITOR IN CHIEF: www.calie.org | Soboba Indian Reporter

September 21, 1012
Dear Tribal Community,
A few years past the Vietnam Veterans Memorial Wall was created to honor the 58,282 brave American warriors that were killed in action or missing during the Vietnam War.
The Vietnam Veterans Memorial Fund is currently expanding the honoring of these heroes by building The Education Center next to "The Wall."

Two local American Indian boys — Joseph P. Pink (Pala), and William J. Lyons (Morongo) — are already included in this U.S. war memorial.
YOUR PERSONAL INVITATION
I would like to extend an invitation for you to join us at Ahmium in identifying any other of our brothers or sisters that were killed or missing in Vietnam or any of our Wars or "Conflicts".
Please read my COMPLETE LETTER for more information, including special contact information....
Ernie C. Salgado Jr.
Executive Director, Ahmium Learning Center, Inc.
Soboba Tribal Member


Editor, The Indian Reporter Web site.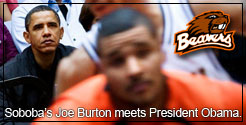 Joseph Burton (in foreground playing power forward against GWU) is the second Soboba tribal member to meet a sitting U.S. President. Burton, a 6-foot, 8-inch, 270-pound athlete won a full basketball scholarship with Oregon State University Beavers after graduating from West Valley High School in 2009. The young Native American athlete met President Obama and the First Family during the game and he later visited the White House with his OSU teammates.


Ernie Salgado Jr. family honors Ernie Salgado Sr. on the Soboba Indian Reservation.
www.APAPAS.com - www.APAPAS.org
APAPAS DEVELOPMENT CO website is under development...