AHMIUM LEARNING CENTER, INC.
"Progress Through Education"
Ahmium means "Children" in our Cahuilla Indian language.
Ahmium Education, Inc., a Tribal 501(c)(3) non-profit corporation, was one of the first of the eleven Indian Education Centers established in California in 1975.
For 40-years — from 1975 to 2015 — Ernie Salgado Jr. held the position of Ahmium Executive Director. The highly successful Tribal organization provided educational and recreational services for the Tribes located in Southern California.
Our community services included Family Literacy, Early Head Start for 0-3 years of age that included the Parents-As-Teachers (PAT) curriculum, Tutorial Services for American Indian students in grades K-12.
Ahmium also administered the BIA Higher Education and Career Development Funds for Southern California. SAMSHA awarded Ahmium a five-year 6.5 million dollar grant to curb substance abuse on reservations located in Riverside and San Diego Counties.
Some of the most successful outcome of the project were the restoration of the Bird Singers, Rez Ball, Warriors Against Drugs, the Gathering of Native Americans (GONA) curriculum that was modified by Ahmium to meet the specific needs of the area and approved by SAMSHA.
Note:

Ahmium closed its doors in 2015 after 40 years of service to the Tribal community. Our official website home page is archived here for posterity.

Please donate to California Indian Education and help keep our community centers open and serving American Indian children and families.


RIVERSIDE COUNTY Office
Located adjacent to the Soboba Indian Reservation
Ahmium Learning Center, Inc.
San Jacinto, CA 92582
WEBSITE:
www.ahmium.org
COUNTY OF SAN DIEGO Office
Ahmium Learning Center, Inc.
Alpine, CA 91901
INTERNET:
www.ahmium.org

The American Indian Reporter Releases Historic First Issue — Are You In?
FREE DOWNLOAD PDF (May 1, 2018).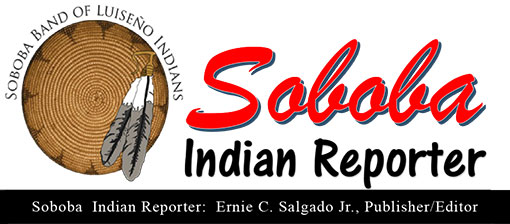 Ernie Salgado, Editor in Chief, The Indian Reporter Website.
+++++++
In fond remembrance of some of the people who supported Ahmium:


PATSY "PAT" SALGADO
1946-2014
Patsy "Pat" Ann Salgado went to heaven on June 22, 2014. Pat was a beloved homemaker, wife, mother, grandmother and great-grandmother... She is survived by her husband of 51 years, Ernie C. Salgado Jr....


ERNEST SALGADO SR
1920-2012
Luiseño, Soboba Indian Reservation


ROBERT "BOBBY" SALGADO, SR.
1942-2016
Luiseño, Soboba Indian Reservation


SHIRLEY "FITE" SILVAS
1948-2016
Shirley Louise Slivas was married to Leandro "Tato" Silvas and lived on the Soboba Reservation for more than 50 years. Shirley served on the Ahmium Board of Directors for over 20 years and was the Ahmium Executive Assistant for 15 years.